Sports Turf Groomer with Integrated Tines (920STR)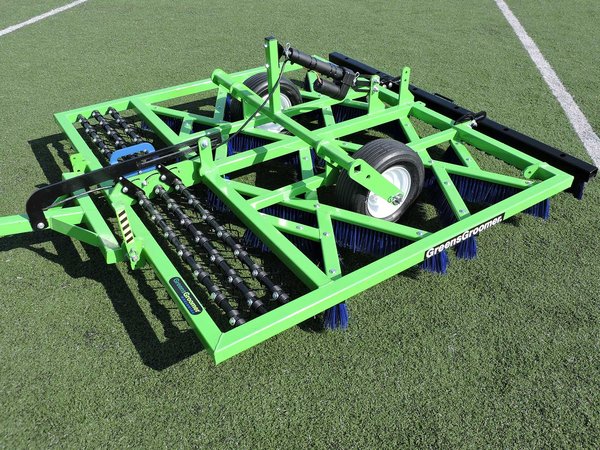 Sports Turf Groomer with Integrated Tines (920STR)
GreensGroomer Synthetic Turf Groomer with Combo Front / Rear Spring Tine Rake and Rear Brush Attachment

The Synthetic Sports Turf Groomer was redesigned in 2014, resulting in an improved brush design and increased grooming performance. In 2015,
GreensGroomer
has taken the design a step further, by adding an integrated spring tine rake. This unit conditions synthetic turf surfaces and relieves compaction while delivering greater labor efficiencies , ease of operation, and a lower total cost of ownership.
Integrated Rake Features...
The integrated Spring Tine is controlled through a simple, sliding lever. This allows the operator to quickly and easily rotate tines upwards and out of the way while not needed. When raking is required, a simple motion rotates the tines into raking mode in one easy step. The spring tines are completely adjustable, so the depth of raking can be controlled by the facility. Simple markings on the lever rail allows the operator to precisely dial in tine depth. Promises increased efficiency and ease of operation. With a heavy-duty steel construction, the Integrated Synthetic Sports Turf Groomer has 16 Super Duty Blue brushes set at various angles to the direction the unit is being towed. The Integrated Spring Tine Rake has 3 rows of 14 tines that are fully adjustable and allow for surface de-compaction without damage to the turf. Once raked, the Groomer brushes stand the turf surface up, move the infill, and level low spots/depressions left after play.
Integration With the Spring Tine Rake...
The grooming and maintenance routine isn't complete without the use of the Spring Tine Rake. By simply grooming, you miss the important function of the rake to relieve compaction. The relationship of the angled tines and the grooming brushes are such that both functions (grooming and raking) can be achieved with a single pass without damaging the turf. Simple in design with a heavy-duty construction, the focal point of this patent-pending design are the precise brush dimensions and angles. This allows grooming in four directions, standing up turf fibers and leveling infill material. The integrated rake simplifies equipment requirements and gives the facility flexibility for on-demand raking without equipment change-over.