Heavy Duty 4 Wheel Dry Liner - 50 Pound Capacity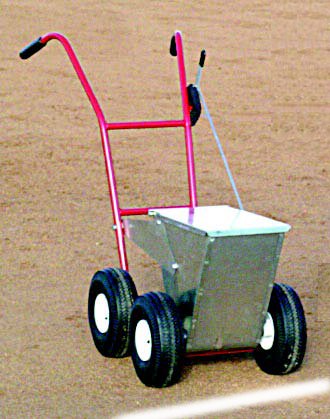 Heavy Duty 4 Wheel Dry Liner - 50 Pound Capacity
Heavy Duty 4 Wheel Dry Liner - 50 Pound Capacity
NewLiner HD machines are the most durable dry line markers available. These are the original, American made, NewLiner HD dry line markers. Don't be fooled by the cheap foreign knockoffs.
They are ideal for lining baseball infields, athletic fields, running tracks, cross country courses or any special event. Plus, two models of the NewLiner HD are available. The HD50 and HD100 NewLiners are for those who want the best, most durable dry liner available.
They feature:
● Dual welded structural steel handles.
● 11 gauge welded steel chassis.
● 10" pneumatic tires.
● 50 and 100 pound capacity
● Galvanized steel material containers to prevent rusting.
● 1/2" axles and drive shafts for strength.
● Precision control for 2' or 4" lines.
● Handle mounted control lever for instant on-off.
● Oversized foam rubber hand grips for increased operator comfort.
● 18-month warranty, the longest in the industry.