PortAScrub Synthetic Turf Cleaning Machine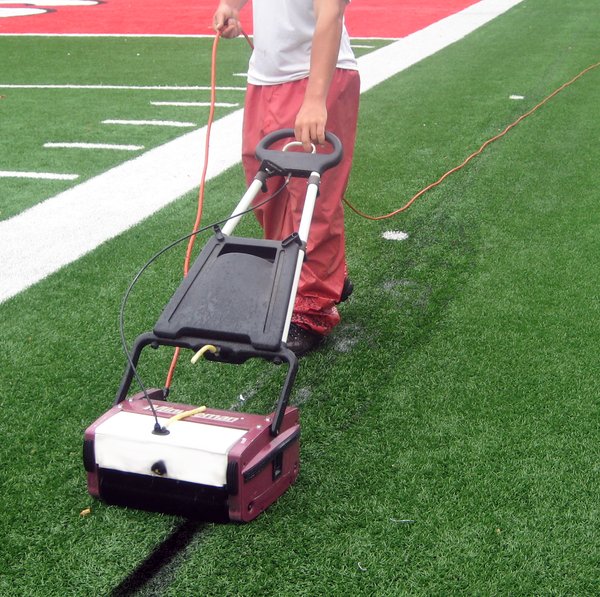 PortAScrub Synthetic Turf Cleaning Machine
Port AScrub Synthetic Turf Cleaning Machine


Port A Scrub is excellent for removal of Whitlam's Pro Stripe or Temp Stripe Athletic Field Marking Paints from any synthetic turf surface. Operator friendly, this machine saves time, money and labor costs. Used at both indoor and outdoor venues. It cleans virtually any surface. Excellent for removing clay from synthetic baseball fields.
All Surface Cleaning Provides Versatility.
The Port A Scrub cleans virtually any hard floor such as vinyl tile, hardwood, concrete, short nap carpeting, diamond plate, quarry tile, brick, slate, mosaic, studded rubber, granite, marble, rubber floors, escalators and people movers. With three optional brush choices, surface cleaning is made easy. The Port A Scrub is ideal for airports, washrooms, clinics, offices, hotels, educational institutions, retail stores and anywhere a clean surface is required.

Operator Friendly. So Easy, Anyone Can Use It!
With easy controls, compact design and great maneuverability, anyone can use the Port A Scrub with minimal training. By simply lowering the handle, the machine turns on and is ready to go. The counter rotating cylindrical brushes allow the Port A Scrub to glide back and forth in forward or reverse operation with little effort and also allow for one hand operation.

Quick and Efficient Multi-Purpose Machine.
A 12-inch cleaning path helps the Port A Scrub to fit into tight or congested areas. Due to its compact design, this machine can be operated under shelves, tables and chairs, i.e. in places where other machines cannot reach. The Port A Scrub puts the water and chemical down, scrubs with two counter rotating cylindrical brushes and picks up the dirty water, leaving the floor virtually dry. Running at a low noise level of 69 db, operation is possible in noise sensitive areas. This machine has four height settings for brush wear and brush height. Brushes are easy to remove and change, no tools are required. A one gallon clean water tank is conveniently located on the handle and is easily removed for quick filling.
♦ Economical
♦ Electric Powered
♦ Fast - Compact - Portable
♦ Counter Rotating 12" Brushes
Excellent for Cleaning Clay from Synthetic Baseball Fields