Pro-Stripe Athletic Aerosol - Hot Orange - 12 - 20 oz Cans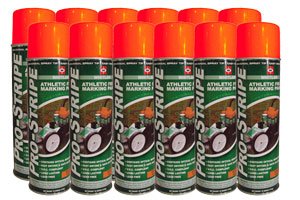 Pro-Stripe Athletic Aerosol - Hot Orange - 12 - 20 oz Cans
Pro-Stripe Athletic Aerosol - Hot Orange - 12 - 20 oz Cans

PRO-STRIPE
Inverted Aerosol Marking Paint is formulated to last long, remain bright and not harm grass or any sports field covering. Get up to 1/2 mile of 3-inch wide stripe per case
.

Pro-Stripe
Athletic Hot Orange Aerosol Field Marking Paint - Whitlam athletic marking paints are specifically designed for marking lines, numbers and logos on all types of athletic fields. Our exclusive formula is bright, long lasting, non-toxic, environmentally friendly and has low VOC's to be used on both natural and synthetic turf.
Pro-Stripe
aerosol can be easily applied by hand, wand or the
Pro-Striper
marking machine. The universal spray tip allows the product to be used with most other marking machines providing a clean, crisp line up to 4" wide and approximately 250' in length per 20 oz. can. Variety of colors are available. All of which will not harm grass, uniforms or players.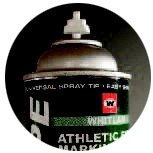 Universal Marking Tip