Super Cover Turf Green Colorant - Lawn Paint - 1 Gallon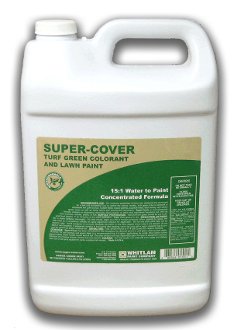 Super Cover Turf Green Colorant - Lawn Paint - 1 Gallon
SUPER-COVER Turf Green Colorant - Lawn Paint - 1 Gallon
SUPER-COVER Turf Colorant is a permanent green pigment which will not harm turf grass and can be applied at any time during the year. The fastest and most economical way to restore a healthy appearance to dormant or discolored turf.
SUPER-COVER Turf Green colorant brings the look of life back to dormant or damaged turf. Great for Athletic Sports Fields, Golf Courses, Home or Commercial Landscapes. Works excellent when mixed with sand based golf course divot mix to create green fill. Also used in hydro-seeding.
Designed to withstand Heavy Traffic
Great for Golf Courses & Sports Turf applications
Cost Effective - Long Lasting
Dilute up to 5 Gallons Super-Cover to 75 Gallons Water
Biodegradable, Non-Hazardous

Made in the U.S.A.